Why Managing MDF Strategies Is Increasingly Becoming A Resource Game

MRP Global Marketing Team

[smart_track_player url="http://traffic.libsyn.com/aiforb2b/15_-_Devon_Wellbrock_2.mp3″ title="Millions of MDF Dollars Are Going Unspent In Channel Partners. Here's What We're Doing About It. w/ Devon Wellbrock" social_linkedin="true" social_email="true" ]
Channel sales and marketing executives are tasked with the unenviable responsibility of juggling multiple priorities including partner recruitment, managing channel sales performance and ensuring market development funds are used wisely. Despite the heavy investments that many vendors have made within channel marketing, particularly advancements within automation and concierge services, the majority of partners are still not effectively managing their MDF strategies.
Channel marketers are clasping onto millions of dollars of unspent market development funds every quarter. With several partners and each one having its own requirements of how to spend their MDF, channel partners often lack the bandwidth to ensure the funds are spent, much less managed. As a result, most channel partners are not aware of MDF requirements, don't know how to apply for them and end up not using them even when they are available.
Many vendors are also reluctant to invest in marketing automation platforms or concierge services. It is essential that channel partners are granted access to pre-configured campaigns that are pre-loaded in a channel marketing automation platform. However, if this alone is not enough.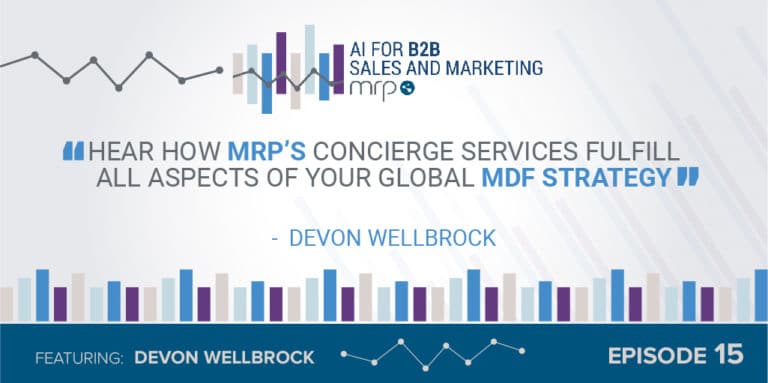 That's why channel partners across the globe are turning to Devon Wellbrock. As SVP of Enterprise at MRP, Devon helps oversee our white label concierge service, which helps fulfill all aspects of global MDF strategies.  MRP concierge services support your efforts and team with specific expertise, at each stage of the process. We help partners assess their target market, plan their goals and implement strategies to utilize their MDF wisely. The MRP concierge team ensures that your global corporate marketing strategy is being fulfilled at all tiers of the partner universe. With studies suggesting only 33% of marketers feel they can optimize their channel spend, MRP concierge services ensure that partner MDF are spent in total quarter over quarter on programs that will positively affect their bottom line.
From brand approved content to a wide array of messaging options, The MRP concierge team empower your channel partners to engage prospects and promote your brand. Delivered with full transparency, MRP put the control in your hands.
[dssb_sharing_button icon_color="#ffffff" icon_bg="#314A83" _builder_version="4.16" _module_preset="default"...