What role does AI play in Account Based Marketing?

MRP Global Marketing Team

[smart_track_player url="http://traffic.libsyn.com/aiforb2b/220-20Jaime20Romero_1.mp3″ title="How AI Affects Account Based Marketing" ]
Account Based Marketing is about recognizing target account needs and triggering precision content on time, on message and on budget. From early buying stages to stimulate awareness and brand familiarity, to driving specific actions to propel demand generation, the ability to deliver personalized and contextually relevant messaging to your target accounts is what will help you achieve your revenue goals.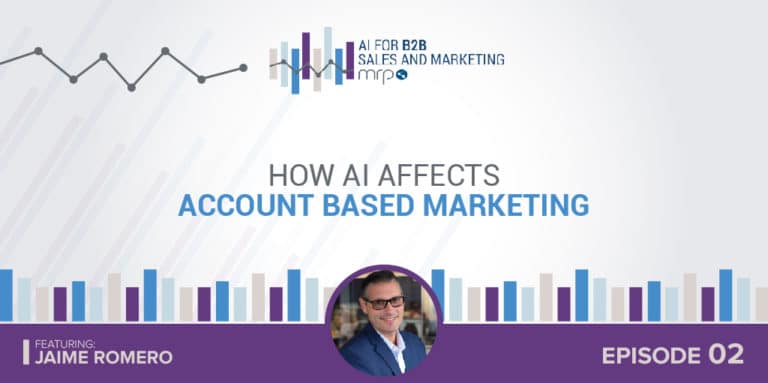 As you follow prospects along their buyer journey, the tactics used and content delivered have to match that journey.  As soon as an account enters a particular buying stage, the ability to send a series of content-specific tactics that align to the prospect's buyer journey, forgoes broad segmentation in favor of more individualized communication. Marketing that can appeal to too large of a crowd in the B2B community only add to the noise, and should become a thing of the past.
But what role does AI play in this space and how can it affect your Account Based Marketing strategy?
Truly personalized target account engagement starts with real-time insights and is realized when you trigger coordinated actions across delivery channels. The first stage in implementing a successful ABM program is the identification of accounts that not only require your solutions but those are appropriate to your business. The formula for ABM success is utilizing technology necessary to not only drive ABM program revenue, but measure and optimize it. No more tiny point solutions or vague KPI's, your ABM strategy needs to be  built with your target accounts front and center; Connecting your strategy to technology and delivering truly personalized target account engagement.
[dssb_sharing_button icon_color="#ffffff" icon_bg="#314A83" _builder_version="4.16" _module_preset="default"...