The Insurance Advisor Of The Future

MRP Global Marketing Team
As the opportunities for artificial intelligence (AI) continue to infiltrate almost every business, one vertical that is yet to fully exploit the relevant opportunities is the insurance industry. Despite 85% of insurance executives stating AI would be critical to their business' future, a survey last year by Willis Towers Watson showed that 74% of respondents felt the insurance industry has failed to show leadership in digital innovation.
While the adoption of AI is advancing in insurance, deployment is still not widely circulated. The insurance industry needs to respond to this changing business landscape and recognize the potential of AI to reshape everything from underwriting and claims management, to pricing. In order to successfully position themselves as insurers of the future, carriers need to embrace these emerging technologies.
Finaeo, the world's first digital Managing General Agent (MGA), is disrupting the insurance supply chain by digitizing and automating the end to end process, making it more transparent and efficient to purchase insurance. By streamlining the administrative process from prospect-to-purchase, Finaeo helps financial advisors reduce the burden of manual paperwork and old processes. Instead, Finaeo helps advisors spend time on what matters; building real relationships with their clients and never letting anything fall through the cracks.
We recently invited Jason Carvalho, COO at Finaeo, to share his views on the future of fintech on the latest episode of our AI for B2B Sales & Marketing Podcast. Discussing how Finaeo is deconstructing banks and the financial and insurance industries in an era of legacy systems and 50-page applications, Jason explains why giving advisors access to the world's insurance and financial products, machine and human can combine to create the world's bionic financial advisors.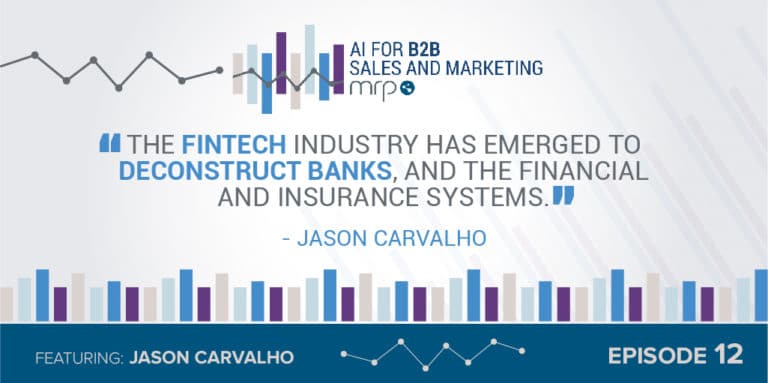 Focused on the individual/voluntary insurance market, Finaeo's platform includes a digital assistant that helps with clerical tasks like setting appointments and lessens the necessity for manual paperwork. It also offers a "sales coach" notifying advisors of upsell and cross-sell opportunities.  Using the platform to enable the demand-side of the market, Finaeo is creating a policy marketplace that links customers, brokers, and insurance companies by automating the data flow, which traditionally has been a highly labor-intensive supply chain process. By interlocking the stack, Finaeo transforms into a digital intermediary that provides advisors, clients, and suppliers an end-to-end digital experience.
As the industry undergoes rapid transformation, AI is the overriding force driving this evolution. As we've seen, robo-advisors have shaken up the wealth management industry over the last decade. Their impact is beginning to spread to other industries—including insurance. Whether harnessing predictive analytics to create a more personalized experience or utilizing machine learning to assist in risk management, the market is already shifting towards carriers that can best harness the potential of AI. Key players in the industry need to evolve now or risk falling behind the pack.
2022 State Of ABM: Account-Based Strategies Continue Experiential Evolution 2022 State Of ABM: Account-Based Strategies Continue Experiential Evolution This report will share tips, best practices, and use case examples of how marketers are...