Moving Beyond Sales & Marketing Alignment

MRP Global Marketing Team

Although the sales-marketing disconnect and rivalry has certainly kept life, business, and company gossip interesting, organizations must evolve. If companies want to reap the rewards of ABM, it is critical that their marketing and sales teams get on the same page and focus on developing pipelines filled with quality leads and the right opportunities. As asserted by our CEO in a recent piece with Demand Gen Report, it's possible that the reason why sales and marketing alignment remains elusive is that the term "alignment" isn't sufficient; it doesn't capture the real sense of what's essential. While alignment may look great on paper, the reality is that it's impossible to achieve if sales and marketing operate as two different organizations that exist to plan, orchestrate, and optimize two separate processes.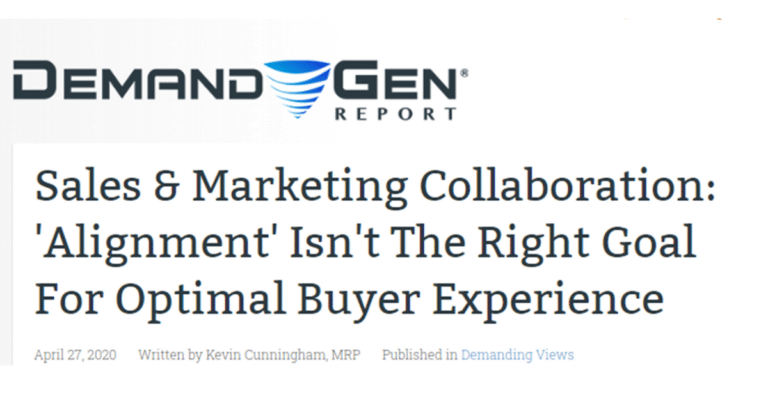 Maintaining a collaborative state between sales and marketing is challenging. Data is a powerful equalizer that keeps everyone looking through a unified lens. The more you leverage it in your strategy, the more likely you'll reach your goals. Use data to determine your ideal customer profile and customer personas. Anecdotal information can supplement this intelligence, but it can't substitute for it. Consider layering in predictive intelligence to identify, out of all the companies that match your ICP, which demonstrate the highest propensity to buy. Applying intent to the planning and preparation stage guarantees that your account strategies and plans are grounded in insight – and data-driven account planning is an integral feature of highly collaborative ABM.
Delivering a fully integrated marketing strategy relies on robust orchestration. It means considering the "total messaging experience" for each account, rather than just ramping up the noise with more broadcast messaging. It's another step away from the historic 'spray and pray' model to one that is genuinely targeted and customer-focused. And of course, it calls for solid insight into your customers or targets so that the 'messaging experience' reflects their needs – which your intent data gives you. When it comes to message distribution, it's no surprise that highly effective ABM teams adopt a coordinated, multi-channel approach that reflects what was identified during orchestration. Where intent data can be particularly helpful here is in identifying which inbound channels prospective customers are coming from. Delivering back targeted messaging that reflects the ways buyers engaged is a tried and tested strategy to deliver more effective ABM programs.
Another one of the biggest obstacles to making this move from alignment to collaboration, is the use of inconsistent and duplicate measurement efforts across sales and marketing. Collaboration calls for a single source of truth to measure, base, and optimize the demand engine. This consolidation of cross-functional data can unify teams in a way that is both objective and scalable, making it easier to track pipeline conversion performance while still driving revenue and identifying any constraints across the funnel. A best in class ABM platform helps provide the fundamental measurement and analytics to help foster this collaboration, providing the coordinated insights, orchestration, and omnichannel actions that help prove through analytics that this collaboration is not only worthwhile but necessary to remain competitive in today's environment.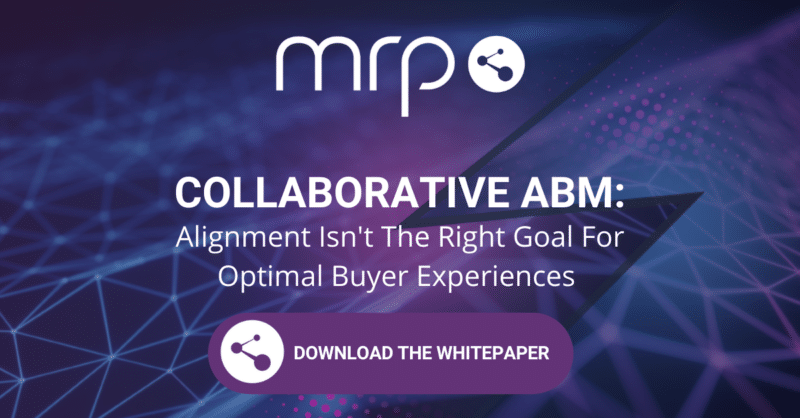 The Marketer's Roadmap To Mature Account-Based Experiences The Marketer's Roadmap To Mature Account-Based Experiences In a rush to accelerate the delivery of "account-based experiences" (ABX), the platforms that support it have become a...