The Future of B2B Marketing & Sales: Can AI Really Foster Human Connections?

MRP Global Marketing Team

[smart_track_player url="http://traffic.libsyn.com/aiforb2b/1620-20Wilson20Raj_1.mp3″ title="Working With AI: A Glance Into the Reality of Predictive Analytics w/ Wilson Raj" social_linkedin="true" ]
Can Artificial Intelligence (AI) really foster human connections within marketing and sales? When done right, yes it can. AI can help brands accurately understand their customers and determine what experience to deliver based on the traits it considers most predictive. AI can truly see customers for what they need in that very moment and direct you in evaluating and deploying the correct solution, within the precise channel, and the right personalized touchpoint—all in real-time and all at scale. What is that if not more human than even the best of the best human marketers?
The biggest challenge is how to assimilate these humanized AI experiences into your marketing strategy? The answer is of course data. Ultimately, without a strong, data-driven foundation in place, AI will simply develop into another blockade in the path of meaningful engagement, automating and advancing bad customer experiences.
On the latest episode of our AI for B2B Sales and Marketing, an industry leader joined us to share how companies are leveraging AI to maximize customer experience impact across their brands. Wilson Raj, Global Director of Customer Intelligence at SAS drives the global marketing strategy of the largest independent vendor in the analytics market, giving marketing organizations an analytical advantage—powered by AI and Machine Learning— to find the most profitable customer opportunities, take the best marketing actions, and maximize customer experience impact across the brand.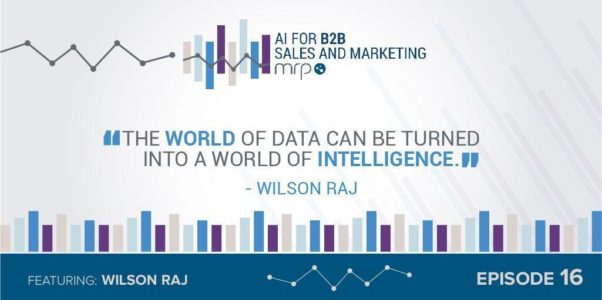 It's time brands make the shift from customer experience to human experience. After all, customers are human and they want to be connected with on that level. Brands should seek to create experiences that effortlessly connect them to what matters most. Leveraging AI, brands can deliver supreme personalized experiences and, with it, create long-term customer engagement and enduring advocacy—always a win.
[dssb_sharing_button icon_color="#ffffff" icon_bg="#314A83" _builder_version="4.16" _module_preset="default"...