Embracing Intelligent Customer Experiences Through AI

MRP Global Marketing Team

Further integration of technology in the marketplace has created higher consumer expectations, posing a challenge for brands, as well as a great opportunity. The influence of Artificial Intelligence (AI) on achieving communication at scale combined with a not before seen level of customization, means we are increasingly able to tailor campaigns to consumer intent, that is relevant to their stage in the buyer journey.
Utilizing AI to Create Flawless Customer Experiences
Transforming customer engagements to intelligent customer experiences requires response to an organization's intent with the right level of engagement, the right message, and the right allocation of resources to convert them to pipeline.  However, attempting to consistently extract details of your current engagements with your top accounts and deliver that to the database of new demand units within those accounts, is a colossal task.
Joining us for the latest episode in our AI for B2B Sales and Marketing podcast series, Ryan MacInnis, Director of Marketing at Notarize Inc and New Venture Fellow and Entrepreneur in Residence at UMass Lowell, explains how utilizing AI and machine learning can help craft these intelligent customer experiences. Speaking with Co-Founder and CMO Jim Regan, Ryan described how to scale business around these intelligent customer experiences, while still creating those 'ah ha' moments for customers.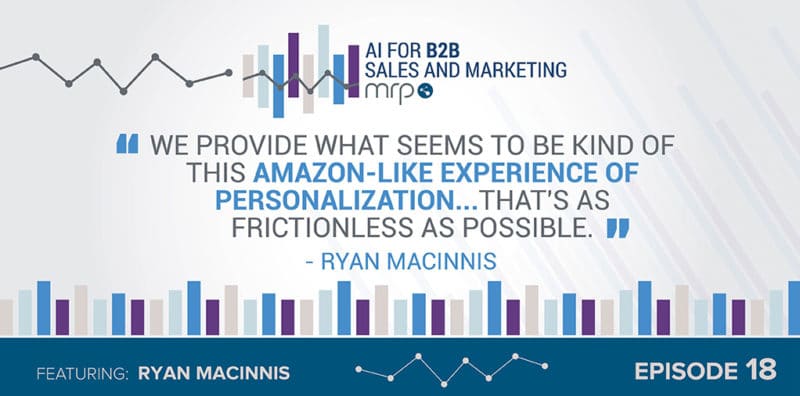 Smarter Engagement Strategies
The convergence of AI and machine learning with marketing tactics has been proven to enable both smarter customer engagement and better results. Using data collected from customers journeys can provide a complete view of the purchasing patterns behind each customer account. Utilizing machine learning algorithms that combine customer intent signals and pre-purchase research patterns with past practices and behaviors, offers a complete view of long-term customers intent. Not only will you be able to see what worked, what didn't, and what needs improvement, but your customer engagement strategy gets smarter with every sales cycle.
2022 State Of ABM: Account-Based Strategies Continue Experiential Evolution 2022 State Of ABM: Account-Based Strategies Continue Experiential Evolution This report will share tips, best practices, and use case examples of how marketers are...