Context Engine Allows B2B Companies To See into Relevance of Buyers' Content Consumption

MRP Global Marketing Team


[smart_track_player url="http://traffic.libsyn.com/aiforb2b/13_-_Jim_Manley_2.mp3″ title="A New AI-powered Context Engine Allows B2B Companies See into Relevance of Buyers' Content Consumption" ]
Content is meaningless without context. While content tells you something, context gives you everything.
Knowing what content your buyers are consuming is an important first step in any ABM strategy. But knowing the content as well as the context of the information, is where B2B companies can gain true insight.
Contextual marketing plays into developing a relationship with your target audience. It's about finding out not what by why target accounts are looking for what they're looking for and playing into that need for relevance and fitting your brand into their lifestyle.
Joining us for the latest episode of AI for B2B Sales and Marketing, Jim Manley, Director of Product Management here at MRP, explores how B2B companies with ABM strategies are leveraging AI to determine what content their buyers are consuming. But, the next step of AI and machine learning includes not only the content itself, but the context and manner surrounding the information.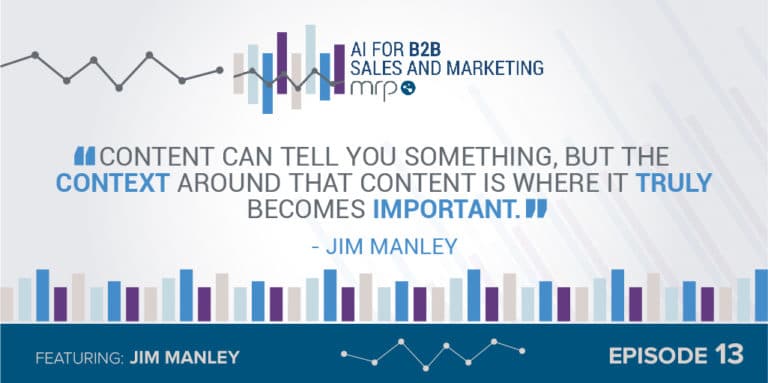 The core of MRP Prelytix's algorithm has been rearchitected to improve relevancy and accuracy of the data. Understanding the impact MRP marketing activities are having on your accounts is even easier through the newly designed Program Analytics screen. New widget options provide better data visualizations on a customizable, drag-and-drop layout.
Ingesting, analyzing, and seamlessly tying insight data to tactic data all in one place, MRP Prelytix delivers a world-class ABM experience like none other. But we're not done yet.
There are still many challenges within contextual marketing. Changes within the consistency of established pattern stability is the key to creating accurate forecasts in predictive analytics. MRP are at the forefront of this technology and we aren't resting on our laurels just yet.
[dssb_sharing_button icon_color="#ffffff" icon_bg="#314A83" _builder_version="4.16" _module_preset="default"...