Building Solutions For A Global Marketplace
At MRP, innovation is not just another word, it's part of our organizational DNA – a journey that began in 2002 and continues to propel us ahead, even today. 
We're a global team of shared values – and proud identities. 
At MRP, we believe that when you have the right people in the right working environment, great things happen. Our best-in-class ABM technology empowers thousands of customers around the world to to simplify the complexity of their operating environments, enabling account-based programs that are coordinated with existing marketing programs, across all global marketing initiatives.
Our award-winning culture is our north star and drives everything we do – from striving to create an environment where all customers, employees, and partners feel respected, encouraged, and valued.
We're proud of our diverse team of 700+ employees in 10 office locations across 8 countries around the world. No matter where you are, you'll work with people who care about your success and get the support you need to reach your goals.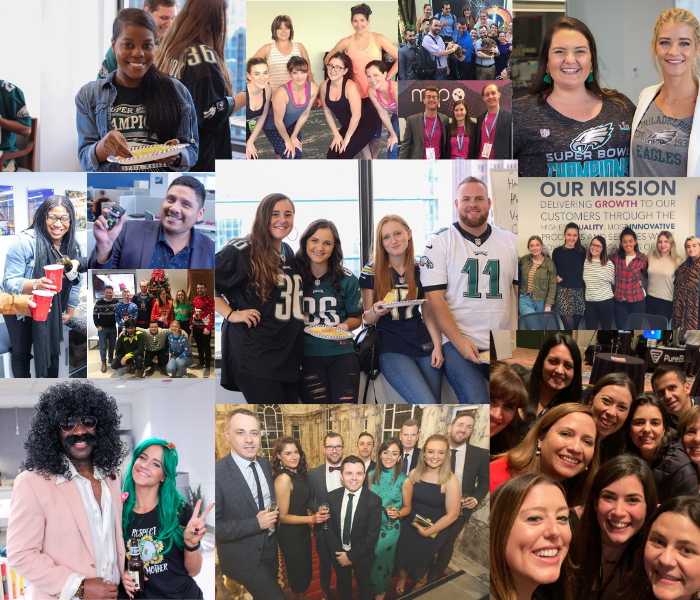 Here at MRP, there are endless challenges and rewards. We're made up of strong, smart people dedicated to doing their best work and driving success for our customers. Joining MRP is about joining a culture of openness, collaboration, trust, and the invitation and expectation to have a voice.  Big or small, each one of our offices is designed to spark innovation, inspiration and big ideas.
Search below to view our latest job openings across the globe:
By giving employees access to learning resources and mentorship programs, we maintain a promotional growth rate of over 80% for internal roles across departments.
We understand the need to recharge, which is why we offer generous PTO and holiday leave options. We also provide enhanced maternity, paternity, and family leave.
Offering modern, tech-forward office environments and hybrid working options, we acknowledge and accommodate the need to adapt to today's new reality.
Dynamic & Diverse Environment
The close-knit teams we've built in local offices in addition to our global affinity groups enable collaboration and foster diversity and inclusion.
We offer essential benefits to cover your health and wellness needs and programs tailored to our employees' mental and emotional well-being.
From retirement planning to student loan assistance, MRP has a diverse range of financial programs to match our global team's needs.